Guest Blogging for Your Veterinary Hospital: Boost Your Reputation, Attract New Clients and Drive Traffic to Your Website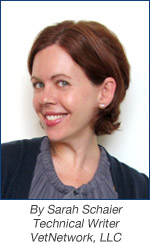 Guest blogging for your veterinary hospital, or contributing blog posts to other blogs, is another excellent way to expand your online reach, connect with pet owners, build your reputation, drive traffic to your veterinary hospital website and improve your site's search engine rank. Begin by compiling a list of local businesses, organizations and individuals with blogs that have a target audience that overlaps with yours – such as a local pet food/supply store, doggie daycare or groomer, humane society or rescue organization, and perhaps even one or two of your clients.
As a skilled, experienced veterinarian, you're a source of considerable knowledge that can benefit pet owners. Use your veterinary care expertise to write guest blog posts on the following topics:
General pet care for a rescue organization or local shelter
Pet skin conditions and treatments for a local pet groomer
Pet nutrition for a local pet food store
Exercise and weight management
Breed-specific health issues for breed-specific rescue organizations
Tips for traveling with your pet
There are a few things to keep in mind when guest blogging. Matthew Cutts, Google's Webspam leader and the person widely considered the authority on achieving high Google rankings, advises business bloggers to only choose high-quality sites, only publish original content (rather than spinning someone else's article to look like your own) and never use the same article on two different sites. Google is very concerned about delivering the highest-quality, most valuable content to its users. Most, if not all, of their algorithmic changes are related to accomplishing that goal more effectively. If your veterinary website has backlinks that violate Google's quality guidelines, you could be relegated to a spot far from page one – the equivalent to search engine oblivion.
This year, use your vast pet care knowledge to enhance your practice's online visibility, establish yourself as a veterinary expert, increase engagement and trust among local pet owners, build relationships with other small business owners in your community and more by guest blogging for your veterinary hospital. For more information on how to get started or to find out more about the blogging services VetNetwork offers for veterinary hospitals, please contact us today.
VetNetwork is owned and operated by a veterinarian with 20 years of hospital ownership experience, and is staffed with a team of marketing experts that are dedicated to growing veterinary practices. For more information on our veterinary marketing services, please give as call at (800) 564-4215 or send us an email today.
Copyright © VetNetwork, LLC
VetNetwork – Marketing Solutions for Veterinarians and Veterinary Hospitals
www.vetnetwork.com
603-743-4321
No comments yet.
Leave a comment!
« Three Facebook Advertising Options for Your Veterinary Hospital