Your Veterinary Hospital Marketing Strategy : VetNetwork's News Roundup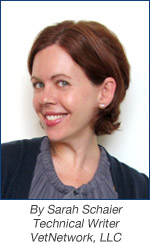 At VetNetwork, we work to stay abreast of all the latest trends in veterinary hospital marketing; after all, our number one objective is to provide our clients with the information they need to expand their client base and grow their practice. Here's our VetNetwork News Roundup from last week to help boost your veterinary hospital marketing strategy.
Erik Devaney from Hubspot explained the theory behind the color palettes chosen by seven successful businesses and how each uses colors to communicate a distinct message to their consumers. The main takeaway is that when choosing colors for your veterinary hospital, think carefully about the message you want to send.
Use color theory to select colors that work well together and convey the psychological message that's right for your veterinary practice. Pay attention not just to the hue, but also to the shade, tint, tone and saturation – all of which impact the effect your color palette has on pet owners and are an important part of telling your veterinary hospital's unique story.
Adam Stetzer from Search Engine Watch proposed five tactics small businesses should use to grow in 2015: get a logo; give away branded promotional items; participate in charitable events; have an engaging social media presence; and make an emotional connection with your target consumer.
Not ready to take on all five? Already have a logo and donate your time or money to local events? Focus on your veterinary hospital's social media presence and making an emotional connection with pet owners – two tactics that will have meaningful long-term benefits for your practice.
According to Kathryn Wheeler from HubSpot, "Each business has a story, and every business has a unique way of telling that story that truly resonates with its audience." In 2015, it's time to find yours. For Apple, it's innovation and sleek, elegant design; for Ben & Jerry's, it's cleverly named ice cream flavors and a distinctly homegrown, non-corporate vibe; for Sam Adams, it's passion and unwavering focus on quality and taste; for Burt's Bees, it is natural, environmentally conscious products; for Clif Bars and Quest Nutrition it was all about combining healthfulness with great taste – Clif for active adventurers and Quest for fitness professionals.
Consider the messages that resonate with the pet owners in your community and make them a big part of your veterinary hospital brand. Doing so will be an effective way to help you stand out from your competitors and see your practice grow.
Want to know more about the latest veterinary marketing trends and strategies? Keep an eye on VetNetwork's Facebook newsfeed, where we will be posting relevant articles from the leading industry experts. Then check out our blog, where we'll discuss how you can make these ideas work for your veterinary practice.
VetNetwork is owned and operated by a veterinarian with 20 years of hospital ownership experience, and is staffed with a team of veterinary marketing experts that are dedicated to growing veterinary practices. For more information on our veterinary marketing services, please give as call at (800) 564-4215 or send us an email today.
Copyright © VetNetwork, LLC
VetNetwork – Marketing Solutions for Veterinarians and Veterinary Hospitals
http://vetnetwork.com
603-743-4321
No comments yet.
Leave a comment!
« Guest Blogging for Your Veterinary Hospital: Boost Your Reputation, Attract New Clients and Drive Traffic to Your Website