Veterinarian Expertise Marketing : Use Your Knowledge to Market Your Practice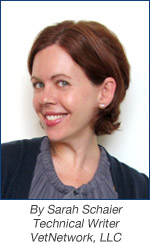 Veterinarians have expertise in pet care. This, of course, should come as no surprise; however, if you aren't using your knowledge in the industry to effectively market to your clients, you're doing your practice a disservice. We call this approach, "veterinarian expertise marketing".
Recently, we posted an article on Facebook about Andy Schneider – a.k.a. "The Chicken Whisperer." Schneider began modestly enough, recording his own podcast devoted to information on raising backyard chickens. Despite his humble beginnings, after six years Schneider's podcast is now downloaded over 30,000 times every month.
He's not the only one getting attention; we also recently linked, for example, to a series of new YouTube videos by veterinarian Dr. Andy Roark called "Cone of Shame." The videos have been on YouTube for only about a month, but Dr. Roark has already amassed over 1,700 subscribers, and his videos are getting thousands of views.
While it may not be your goal to build a media empire like "The Chicken Whisperer," but we're betting you'd like to reach more pet owners, increase revenue and enhance your reputation. The truth is that you don't have to follow precisely in Schneider or Dr. Roark's footsteps, but thinking as they do can set you on the right path toward similar success.
Identify a Knowledge Gap Among Pet Owners
There are many stories about people who have achieved great success online by finding a gap and filling it. Mr. Schneider and Dr. Roark identified an information gap they could fill simply by sharing the knowledge they already have. As an experienced and skilled veterinarian, you're in a great position to do something similar.
Not sure where to start? Consider surveying your clients via email, social media or during office visits to find out what they would like to know more about or what pet care information they most often search for online.
Make Sure YOU Shine Through
Once you've identified the area of pet care you'd like to focus on, it's time to think about making your personality part of the mix. There are many ways to do this – you can be funny, folksy, deadpan, or even matter-of-fact in your presentation, but one of the most important things to focus on is being someone pet owners like and can relate to.
Get Your Message Heard
You have a number of options for reaching pet owners, depending on who you want to target, and how much time and money you want to invest (Dr. Roark built an entire studio for shooting videos in his basement). For example, if you're looking to build loyalty and relationships among current clients with the goal of bringing them into your office more frequently, try launching a monthly newsletter in which you discuss a pet care topic, such as nutrition or parasite prevention, in detail. If you'd like to reach a wider audience, record a series of podcasts you can post on your website and social media (don't forget to boost those posts to reach as many pet owners in your area as possible). If you're even more ambitious, videos may be the route for you.
Make it Easy
A great idea is only as good as its execution. Think realistically about the time you can invest in this type of project and the extent to which you are comfortable putting yourself out there. Whatever path you choose, consistency and reliability will be key components of your long-term success, so don't overextend yourself.
Be the Source for Pet Owners
It's no secret the Internet, and more specifically social media and Google, are making the competition for consumers' attention and business increasingly complicated. It's not enough to run a few print ads and count on word of mouth referrals. The businesses with the most online visibility, the best online reviews and the most consistent engagement are the ones that will have the long-term success. That means continuously revising tactics to most effectively deliver the content pet owners want to hear – and if they're listening to you online, chances are they'll also be walking through your door.
VetNetwork is owned and operated by a veterinarian with 20 years of hospital ownership experience, and is staffed with a team of marketing experts that are dedicated to growing veterinary practices. For more information about our veterinary marketing services, please give as call at (800) 564-4215 or send us an email today.
Copyright © VetNetwork, LLC
VetNetwork – Marketing Solutions for Veterinarians and Veterinary Hospitals
http://vetnetwork.com
603-743-4321
No comments yet.
Leave a comment!
« Your Veterinary Online Reputation: When To Respond To Yelp Reviews