Extra! Extra! Read All About It: Calls to Action Increase Veterinary Hospital Business!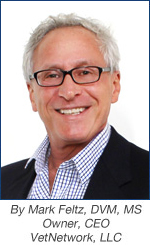 Buy now! Sign up for a free trial! Call us today! You probably read and hear these entreaties from companies often. Why? Because they work.
Calls to action (CTAs) are images or text that prompt readers to literally take action. They should be everywhere you promote your veterinary hospital: your veterinary hospital website, blog, email newsletter, mobile website, brochure, Facebook posts and Twitter feeds. Every time a pet owner clicks here, signs up, reads more, emails now, or calls today, they are one step closer to doing business with you.

CTA Strategies You Can Use for Your Veterinary Hospital Now!
Effective, compelling CTAs offer something of value in direct response to pet owners' wants and needs. Examples of benefit-oriented CTAs that grab pet owners' attention are:
Subscribe to our eNewsletter and enjoy the benefits of timely pet care information delivered right to your email inbox!
Call us today; we want to be your partner in your pet's heath care!
Find out how to eliminate fleas for good!
Five simple steps to keep your senior pet healthy
Do you know the five must-have pet first aid items?
Find out why preventive exams save you money!
Get your free puppy or kitten exam coupon!
According to Hubspot blogger Ginny Soskey, great CTAs have the following essential elements:
Eye-Catching Design: CTAs should contrast with your website design and appear large enough to be noticed.
Copy That Makes People Want to Act: Use a concise, jargon-free phrase with actionable verbs to catch pet owners' attention.
Clear Value Proposition: Whether they are signing up for a newsletter or getting flea and tick prevention tips, pet owners should know exactly what will happen when they click on your CTA.
A Specific Page (Ideally a Landing Page): A CTA is most effective if people are taken to a dedicated landing page after clicking it, rather than a random page on your website.
Don't Delay—Read On!
CTAs are a smart way to maximize the impact of your marketing strategy. When done right, they increase your business by getting pet owners to engage with your content and your veterinary hospital. Interested in finding out more about how you can improve your bottom line with CTAs? Click below to contact us now!

No comments yet.
Leave a comment!
« Ethically Encourage Positive Online Reviews for Your Veterinary Hospital