Ethically Encourage Positive Online Reviews for Your Veterinary Hospital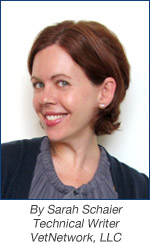 It's a fact: Positive online reviews attract new clients to your veterinary practice. This is especially true for Millennial pet owners, who are most likely to do online research before making a purchasing decision.
So how can you ethically encourage positive online reviews for your veterinary hospital that will strengthen your online reputation and lead more pet owners to choose your practice?
What You Can Do
Print, frame and display positive reviews in your reception area where pet owners check in and out. Include a list of sites where they can check out what people are saying about your veterinary hospital so they know where they can post their own comments.
Include links or icons on your website to sites such as Yelp, Trip Advisor, Yahoo Local, and Google Places where clients can post their opinions.
Email pet owners following appointments to check in on their pets' well-being, find out if they have any additional questions, and include links to the review sites for your veterinary hospital.
Follow up on all posts – especially those that are critical. You want to keep the clients you have happy and show prospective clients that you work hard to resolve complaints and provide exceptional patient care and customer service.
What You Shouldn't Do
Offer discounts or specials to entice pet owners to post a positive review of your veterinary hospital
Post reviews yourself, or solicit reviews from staff, family, or friends
Pay a third party to write a positive review
Include only four- or five-star reviews on your website (pet owners will be suspicious)
The bottom line is that online reviews of your veterinary hospital are an important and necessary part of your overall veterinary marketing strategy. Make sure you provide your clients with easy ways to leave reviews and make sure the reviews are working to convince more pet owners to choose your practice, not hurting your business. VetNetwork's online reputation management for veterinary practices can help. Our process for safeguarding and improving your practice's online reputation is straightforward and stress-free, as we provide a range of options designed to meet your needs and budget. Contact us for more information today!
VetNetwork is owned and operated by a veterinarian with 20 years of hospital ownership experience, and is staffed with a team of veterinary marketing experts that are dedicated to growing veterinary practices. For more information about our digital veterinary marketing services, please give as call at (800) 564-4215 or send us an email today.
Copyright © VetNetwork, LLC
VetNetwork – Marketing Solutions for Veterinarians and Veterinary Hospitals
http://vetnetwork.com
603-743-4321
No comments yet.
Leave a comment!