Veterinary Apps | Your Best Mobile Marketing Bet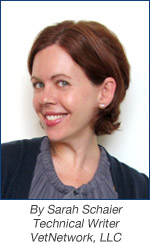 The Value of a Veterinary Hospital App
Are you still unsure about the value of a mobile app for your veterinary hospital? Now is the time to reconsider. According to Niko Nelisson, this "very strategic marketing asset" is one of the hottest mobile marketing trends this year.
Most, if not all, of your clients are using their phones every day to surf the internet and access information. Why not do everything you can to make sure your veterinary practice is highly visible to them at all times?
Fish Where the Fish Are
We've said it before and we'll say it again: almost everyone has gone mobile. According to a whitepaper by Urban Airship, people touch their phones an average of 150 times per day and 80% of users prefer apps to websites when using their mobile devices.
Reach Clients Instantly and Often
Giving your clients a mobile veterinary app allows you to send them push notifications that pop up automatically on their phone screens. Want to send out a limited time special discount on wellness examinations or vaccinations? Bring more pets in for tick-borne disease or heartworm testing? Have a sale on something in your pharmacy? A veterinary hospital app gives you the chance to reach your clients instantly.
Don't Be at the Mercy of Google
Do you feel like you're constantly fighting to keep your website at the top of Google's search results? Don't force your clients to use a search engine to find your veterinary hospital's site any time they want to get info or contact your veterinary hospital. Not only do pet owners find it cumbersome and inefficient, it increases the odds they'll see – and be lured by – one of your competitors' pages instead.
Furthermore, pet owners can link to your website from within your veterinary app and access your information without ever having to use a search engine.
Now Is the Time to Invest in a Veterinary Mobile Marketing Approach that Works
Apps are one of the best ways to capture and keep the attention of your mobile market and are fast becoming a tactic more businesses are choosing. A veterinary app designed by VetNetwork for your practice offers your clients convenience and ease, and its features align perfectly with the information mobile users want. It offers you another great way to differentiate yourself from your competition, reach pet owners quickly and effectively, and offer a useful tool that builds pet owner loyalty.
Want to know more about our mobile veterinary apps? Give us a call today!
VetNetwork is owned and operated by a veterinarian with 20 years of hospital ownership experience, and is staffed with a team of veterinary marketing experts that are dedicated to growing veterinary practices. For more information about our digital veterinary marketing services, please give as call at (800) 564-4215 or send us an email today.
Copyright © VetNetwork, LLC
VetNetwork – Marketing Solutions for Veterinarians and Veterinary Hospitals
http://vetnetwork.com
603-743-4321
No comments yet.
Leave a comment!
« Marketing 101: Customize Your Veterinary Marketing Messages