5 Great Content Ideas for a Veterinary Blog Post
0 Comments
Posted by
Vet Network
in
Blogs
on Wednesday, January 16th, 2019.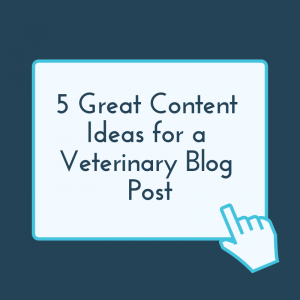 A well-maintained blog can help you increase organic web traffic to your website, while also telling prospective clients more about your practice and providing current clients with relevant information. Not sure what to write about on your veterinary blog? Here are five ideas to get you started.
1.   Post Relevant Information
Your veterinary blog should be a reflection of your practice. If you only see small animals, for example, you want posts that focus on cats and dogs, rather than on horses and cows. On the flip side, if you see a lot of big animals or help ranchers with their livestock, your posts should be related to those topics.
2.   Cover Local Concerns
To engage readers, you should cover local concerns with your blog. For example, if you have lots of stray cats in your area, your readers might be interested in the efficacy of neuter-release programs or how to protect their domestic cats from feral cats. Similarly, if wild animals have been found to have rabies in your area, you may want to create a post about precautions pet parents can take.
3.   Share on Your Social Media Page
After you write posts for your veterinary blog, you should share them on your social media pages. When you share interesting and relevant information, your followers will engage with likes, comments, and shares. These actions spread your content even further across the web, and reach a larger audience. As you continue to create and share valuable content, you build brand affinity in your community. When you build a strong reputation online, you'll see more new appointments from pet owners in your area.
4.   Gain Ideas from Clients
Your clients may have ideas about what you should cover on your blog. Ask them directly, put out a comment box at your practice, or pay attention to the questions they are asking you. If a lot of pet owners ask the same questions during their pets' checkups, that's a sign you should cover those topics on your blog.
5.   Nominate a Pet of the Month
You may also want to get your clients involved with your veterinary blog in other ways. In particular, consider having a pet of the month. Once a month (or even weekly if you have a big practice), choose a pet, get some photos, and write a profile on them. These posts also help to increase exposure because pet owners are likely to share them. Again, this increases brand affinity and online reputation, leading to more clients for your practice.
Need More Help?
VetNetwork was founded by a veterinarian so we know how busy you are. If you don't have time to write consistently for your veterinary blog, or if you're not confident in your writing abilities, reach out to us today. We offer custom veterinary blogs from trained professionals who not only understand veterinary practices, but also know digital marketing. We can help you research the keywords that you should target, come up with topics, and write and post the blogs for you so that you can focus on taking care of animals.
If you'd like more information, please call us at 800-564-4215 or contact us online. We'll ask you a few questions to get to know your practice and your digital marketing needs, then we'll create a plan to help you achieve top search engine rankings, more website traffic, and more new appointments.
No comments yet.
Leave a comment!